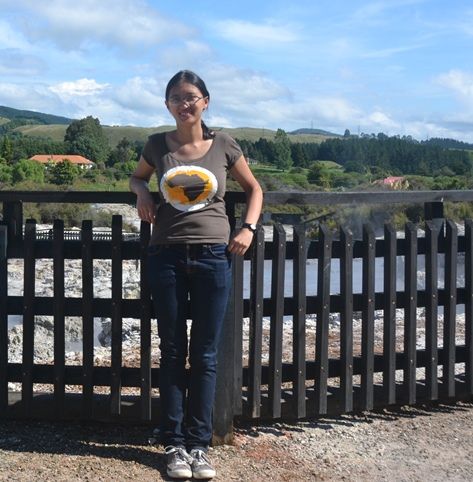 Me at Hell's Gate in Rotorua, New Zealand, December 2012.
I'm quite ordinary, really. I'm a twenty-something year old girl from Sydney, Australia who still feels like she's about 12 and procrastinates far too much.
I have the entire collection of the Baby-Sitters Club books, have had a crush on Ron Weasley since the first Harry Potter book, and my goal in life is to one day put "Geographer" on my business card.
I had a stroke in December 2008, and that's why this website was started: to help raise money for the National Stroke Foundation.
The National Stroke Foundation is an organisation that works to prevent stroke, do research about stroke, and help people who have had strokes. On the "How you can help" part of the website, there are a few things you can do. The one that jumped out at me and said, "Do me!" was this one: Cycling in Vietnam.
It was a challenge to go on a sightseeing tour through Vietnam on bicycle. It was a two week trip in March 2010, with four and a half days in a row of cycling (about 80-100km a day), and some sightseeing along the way.
Each participant needed to fundraise $6500, and about $3000 or $4000 will go to the Stroke Foundation.
I raised abut $14,500 for the NSF and went on the most amazing adventure in March 2010. It turns out that was just the beginning of the travel bug and thirst for new adventures. I'm not going to write where I am now or what I'm doing, because it turns out that keeps changing.
If, for some bizarre reason, you want to contact me, you can reach me at jennigan at gmail dot com.